I took a weekend city break to Prague with Jet2CityBreaks to discover its leafy laid back beer gardens, historic micro-breweries, nightlife, as well as some fantastic scenic walking tours around the city. Needless to say, I definitely recommend a visit, especially as it's only a few hours flight away!
After a very short two hour flight from Manchester to Prague with Jet2.com airlines I arrived at the modern Barcelo Praha Five Hotel (find it on the map here) which would prove a relaxing and comfortable base for my city break. I love modern design, so this hotel was the perfect fit with minimalist stylish furniture, a super comfy king sized bed and free WiFi. The hotel's reception and bar has a lovely seating area as well as outdoor tables and chairs that came in handy with the heat wave. After a long day of exploring the city the hotel's bar provided a much needed chilled glass of Pilsner and a resting place to plan my next stop with the beer guide book to Prague.
Braving the late hot summer heat wave in Prague I put on my trainers and hit streets, heading out beyond the East side of Letná Park to Holešovice. A tram would have been a sensible idea in the sweltering conditions but I decided to take up the challenge on foot. There's so much to stumble across walking around Prague that it's my preferred choice of transport even if it's sweltering weather.
Prague A City Of Quirks, Cobbles & History
Prague is a city steeped in history, full of quirks, cobbles, culture and charm without even trying. Some cities try too hard but not Prague, it's got so much going on that you'll find yourself swamped in culture, history and architecture even if you weren't looking for it. Wander through leafy parks, stumble across intriguing post-communist monuments, look out points, cafes and chilled out beer gardens, it's the perfect way to explore Prague by day before seeking out the city's beer scene and nightlife.
The Czech's have a fair few claims to fame, the invention of contact lenses, the mighty sugar cube, Semtex and finger prints, but surely their greatest gift to the world is the first ever blond lager Pilsner Urquell? Created in Pilsen and named after the city way back in 1842 this lager paved the way for well-known beer brands like Staropramen, Budvar and Kozel. Fast forward to the present day and you'll find a thriving micro-brewery scene in pubs and restaurants dotted across the city, all fuelled by a passion for traditional brewing techniques.
It's not just all about the pubs and micro-breweries though, here's my highlights of the best spots to head to for a few beers, a bite to eat and a spot of nightlife.
Beer gardens with a view
The best way to see Prague is on foot, especially as you can stop off at one of the many beer gardens in the city. If you're keen to see some of the sights in and around the castle without getting stuck in a scrum full of tourists then grab a copy of self guided Prague walking tours from the tourism office.
I started off wandering around Holešovice, an area that's begrudgingly becoming a little bit hip and arty. In total contrast to Old Town Prague and the infuriating crowds of tourists, this area is edging its way to becoming a place to explore and you won't find a single Segway in sight! It's worth checking out the indoor/outdoor market, Holešovická Tržnice (http://www.prazska-trznice.cz/), especially on Saturday when the farmers market is on. It's also known for its superb Vietnamese food stalls.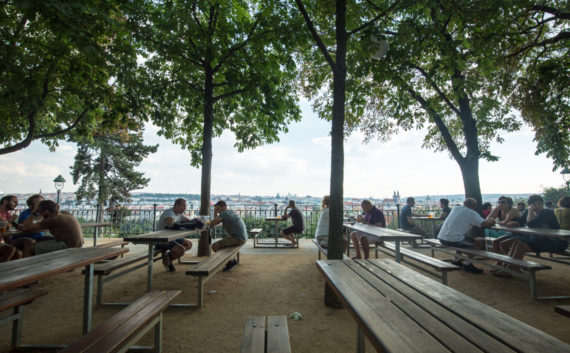 To the east of Holešovice you'll find Letná Beer Garden and a great little spot in Letná Park to relax, rest your feet, to grab a beer and admire the beautiful views over Prague. Visit one of the stalls for a take-away beer and find a picnic table in the garden, there's sausage stalls here too and a terrace area just outside Letenský Zámeček, (Letna Chateu) that's opposite the beer garden.
You can get to Letná Beer Garden by tram with Letenské Náměstí or Strossmayerovo Náměstí the nearest stops.
If you venture further to the west of Letná Park you'll find the giant Metronom overlooking the Vltava River. It was here on Letná Hill that a huge statue of Joseph Stalin (An article with photos of the original statue) watched over the people of Prague for seven years before it was blown to pieces in 1962. Today, locals and tourist visit for the panoramic views across Prague and for a bit skate boarding in the park just beyond.
A visit to Prague isn't complete without taking a stroll around the castle. If you're already up on the hill at the Metronom it's worth the extra walk to the castle, just consider going later on in the afternoon or evening to avoid the crowds.
If you're feeling full of energy you can trek on to Petřín Tower, along the way you'll get great views over Prague with the castle in the foreground. From the top of the tower you'll be able to see right across the city, on a clear day you can see nearly all of Bohemia.
Thankfully, if you are worn out from all the walking there is a funicular to take you back down to street level. Alternatively you can stroll through the beautiful and tranquil Petřín Gardens on your way back down to the city.
This is a great beer garden in Riegrovy Sady (park) that's open till 2am on some weekends, they show football on a big screen (and have free WiFi) and have a decent selection of beer and food. You can also grab a takeaway beer, walk through the park to the hill where locals admire the sunset over the city.
Website: Zahrádky a restaurace Riegrovy sady – Park Café
Pubs, Micro-Breweries And A Spot Of Food
After a morning or afternoon exploring you'll be ready for a beer! Thankfully Prague is certainly not short on options.
It says something about the city when the most popular guide book the tourism board has is the beer guide to Prague (there's a PDF version of the beer guide to Prague here), so if you can get your hands on a copy it's a great reference point for most of the beer spots in town. Do expect to pay a little more for micro-brewery beer in Prague, it's not just because you're a tourist but it's more expensive to brew than pouring someone a glass of mass produced lager.
This tradition Czech restaurant brews it's beer on site and if you're feeling adventurous you can order a nettle or banana beer. It's worth going for the beer tasting option that comes in a wooden wheel of different beers including cherry, coffee stout, banana and nettle along with light and dark samples. Apparently, historically nettle beer and beers brewed using herbs were quite common due to the bitter flavours they give off.
Website: Pivovarský dům
This place can be a bit of a tourist trap but it's worth giving a go for the tasty dark Czech beer, the only beer they actually serve in this historic venue and dining halls. Try the beer garden in the courtyard. Expect tourist prices though and the staff will attempt to sell you shots but it can be a fun place if you take it for what it is.
Website: U Fleků Website
This micro-brewery is fairly new and has a modern interior with exposed brickwork, it's a popular little spot with locals and tourists. It has an interesting selection of herbal beers on offer too, I tested out a Sage Stout that like most Czech beers had a decent head on it. The other herbal options are the Tribulus Ale and Seabuckhorn Ale.
Website: Pivovar U Dobřenských
U Medvídků brews its own range of beer in its brewery down in the basement but it's also a hotel and restaurant. They have some strong beers on offer, especially X BEER 33, a lager with high alcohol content of 12.6%. I opted the Valentýn beer that has a honey like flavour and is a more sensible 5% alcohol.
Website: U Medvídků Website
U Zlateho Tygra ("The Golden Tiger") Beerhall
On a street called Husova this classic Prague beer hall has been here since 1816 but don't expect a friendly face here, even though it's situated in the Old Town they're not too keen on tourists. Or at least that's the vibe they want to give off. It's half the fun, don't be intimidated by the bar staff or locals, but do be respectful and you'll be find yourself with a freshly poured pint of Pilsner before you know it. Try not to block the waiter's path or you might get a frown or two, you also don't need to ask for another beer but do need to tell them when don't want another. The Czech novelist Bohumil Hrabal was a regular at the Golden Tiger and in 1994 he famously drank here with Bill Clinton.
Website: U Zlateho Tygra Website
Locals who want to be seen as in the know about the food scene in Prague come here, but also judging by how busy it was, some tourists have found their way too. There's good reason, Naše maso is a butcher's shop were you can choose your meat and they'll grill it right there and then. They have top quality meat from Czech farms, aged "Fleckveih" beef, Přeštice pork and sausages. The place is small and you may find yourself standing if you don't bag one of four small table but it's definitely worth it. Great concept and perfect place for a spot of lunch or a bite to eat.
Website: Naše maso website
Nightlife on the Vltava Riverside
I don't know how I missed this area at night the last time I visited Prague, but apparently the Vltava Riverside area first came to life after dark in 2012 during the summer. It's a superb place to visit with a huge strip along the river full of small bars, boats and picnic tables full of crowds of people socialising or sitting looking out over the river. See where the Vltava Riverside is on the map.
You'll find a variety of music and bars along the riverside, I wandered past a death metal band mid set on one boat before finding a club in full swing in the bow of another. It's a great place to grab a beer and wander, to see what's happening and to socialise.
Alternative Sights
Discover the vast nuclear fallout bunker beneath the streets of Wenceslas Square and under the boutique Prague Hotel Jalta. Between the 1950's till 1989 the bunker remained a secret spot for spying on important hotel guests. Check out the article I wrote all about Prague's nuclear bunker.
Booking a city break to Prague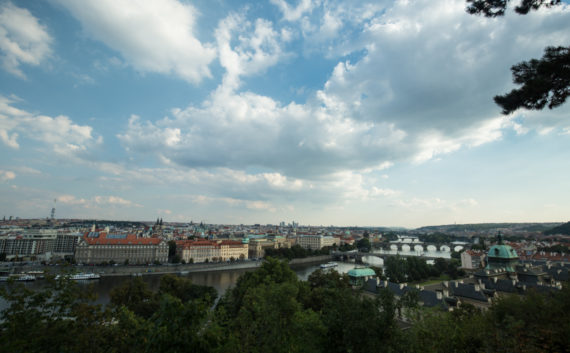 For two nights stay at the lovely Barceló Praha Five and flights to and from Manchester airport to Prague cost a total of £345 per person with Jet2CityBreaks, which is great value if you ask me. A package Jet2CityBreaks takes a lot of the hassle out of planning and worrying about transfers, hotels and flight times, meaning your free to enjoy the ride with all aspects of your break already sorted.
Jet2Holidays pride themselves on their low fares whilst at the same time offering allocated seating, great flight times, a 22kg baggage allowance and no fees for using your credit card. Jet2Holidays and Jet2.com fly from airports based in the Midlands, the north of England as well as Scotland and Northern Ireland. They serve a wide range of popular European destinations, there's plenty more information on their website too.
This post was brought to you as a result of the #Jet2Europe blog trip, created and managed by iambassador in partnership with Jet2Holidays. TravMonkey.com maintains full editorial control of the content published on this site.
The post Weekend Itinerary in Prague – Beer Gardens, Micro-Breweries and Nightlife appeared first on TravMonkey.
Read Original Article